Struggling to grow your Twitch viewer count? Do you think it would be easier to grow your Twitch channel if someone were to hand you a map and all you had to do is follow it step-by-step? If you've read any of my content, you'll know that I'm a huge advocate of
promoting your stream
.
At the bare minimum you should be spend the same amount of time marketing your stream that you would spend streaming each week.
But WHAT do you do? How do you do it? And the trickiest one…
what if it doesn't work?
These questions are quick stumbling blocks that put streamers on the side lines instead of developing an efficient plan that brings in new viewers and builds their community.
This 5-step process is like having a "map hack" for your Twitch channels growth.
It eliminates a lot of the guess work, confusion, and frustration of what you need to do to grow and creates a plan catered specifically for you and your unique skill set. Let's get started!
Step 1: Starting With The Destination
It's really hard to get somewhere if you don't know where you're going. So everything starts with a goal. And better yet, we're going to use a
smart
goal to increase our chances of success. S.M.A.R.T. goals are:
Specific
Measurable
Achievable
Relevant
Time-Bound
When you pull up your navigation to travel somewhere new do you punch in a city or a precise address? Trying to get to your destination with each of these will give you dramatically different results even though you're using the same device. That means if the goal you create for yourself is precise it makes it easier to set up an actionable plan to get there. Here's a couple examples:
I want to get more viewers on Twitch.
I want to improve my viewership from 20 average viewers to 50 average viewers in 90 days.
You see how the second goal is clear about what we want to do and how we'll have to approach it? Using each of the criteria of the SMART goal it gives us the ability to track our progress and adjust our strategies to hit the goal if we see we're not on track. Without a smart goal we're just floating at sea hoping one day we hit the shore.
Step 2: Assessing Where You Are Now
Now you know where you want to go. But to get proper directions to your destination you still need to assess where you are now. In the streaming world this means you need to account for a lot of different things. (
Write down the answers to these questions
)
What are your skills as a content creator?
How big is your audience right now?
How big is your network?
What game(s) do you stream? How big is that potential audience?
What assets do you have?
Do you have a marketing budget to utilize?
Are you a great story teller that can create interesting videos that would get shared? Are you a high skilled player with access to exposure from tournaments? Do you have a network of other streamers that you have built relationships with? How big is your Twitter or Instagram audience? Getting a clear picture of where you are helps pinpoint where you'll start your journey to the goal and makes it possible to fill in the blanks of what you need to do to hit your goal.
If we use the goal from the example above…
A streamer with 7,900 Twitter followers, should figure out how to get more of those followers on their stream (by creating and sharing great content, and building a relationship with that audience). While a new streamer who has 20 recurring viewers might have more luck building their audience by networking with other streamers. A great story teller can go back through their daily content and create clips of the journey on their stream in an way that excites their games community and gets them to share the clips with friends.
But you wouldn't be able to make these observations without being clear with where you are right now.
Step 3: Mapping Out Your Journey
If you were heading west during the gold rush you wouldn't know exactly what path lies ahead. But you can make an educated guess with the resources you have and adjust your journey after you set out. That's exactly what you'll do on your way to your goal. Start by picking a few growth strategies that are proven to build an audience. I wrote a post that includes
86 different tactics to grow your stream.
You don't have to know if the strategy will get you fully to your goal. Your only job right now is to use your best educated guess to pick a few strategies that will get you to your goal. Personally I like to pick strategies that work well with my skill sets or interest and have synergy or leverage with each other. Here's one example: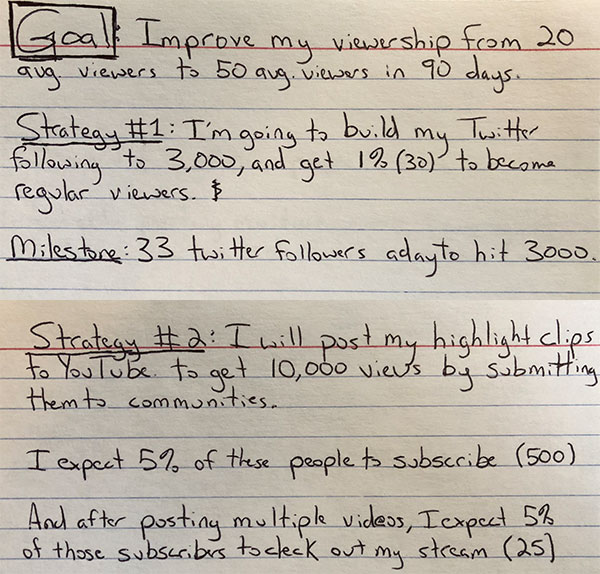 Now that you have a goal and a couple strategies, you work it back from your goal to where you are now.
GOAL:
+30 Viewers in 90 days.
Daily Milestone:
+1 Avg. viewer every 3 days. Just think about that for a minute. If you break it down and think about it like that doesn't it seem much easier? If you spent 3 days focusing strictly on building ONE relationship and referring someone to your stream, do you think that could be manageable? Do you think you could get one of your viewers to recommend your stream to a friend? (link) Do you think you find ONE other streamer to do a co-stream that could bring a few new viewers to your stream? (link) Sometimes you see the bigger goal that looks daunting and you get intimidated until you freeze up and don't take any action. You forget about how much you can actually do to to affect your growth.

Once you do this you can start to see what your daily or weekly goals will look like in order to produce the results that we want.
You'll know each day what you need to do in order to move the needle towards your goal. If you fall behind it will be incredibly obvious that you need to pour on the gas or figure out what isn't working.
Action Step
Create a SMART goal and write it down.
Work it backwards from your goal to get a daily or weekly goal.
Find a few strategies that will get you to your goal.
Write them down.
E-mail me your SMART goal and strategy. (Details at bottom of page)
If you send over your goals, I'll send you a DETAILED Twitch Growth Plan that you can use to help fine-tune your plan. (
And I might even help you stay on track to crushing your goals this year
)
Step 4: TAKE ACTION AND IMPLEMENT
Once you have your plan of attack now it's time to get dirty and start implementing it. Even if you feel like you don't have it all figured out yet. Even if you feel like you're not putting out the best promotional content…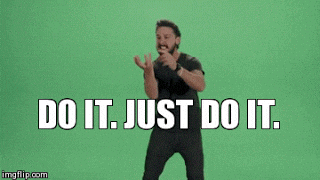 You can improve over time. But you'll never make up for lost time.
We're not worried about success or failure here. So don't worry about perfection. What we want to do is put things out into the market and collect data and feedback. Which we're going to use in the next step.
Step 5: Observe and Adjust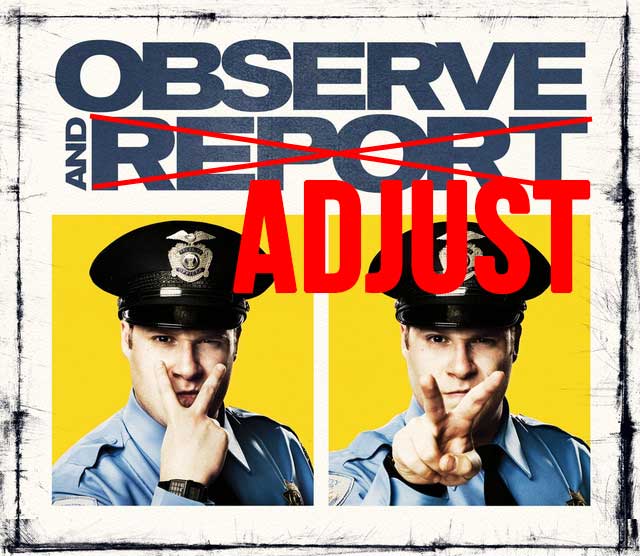 Now that you're implementing the strategy you need to look for feedback from the market. Look at your map and compare your progress with the goal. If you are on target you need to stay the course or increase your efforts to hit the goal quicker. If what you're doing is not moving you towards your goal in the time you set, you need to look at different KPI (key performance indicators) and assess what's going wrong. From there you adjust, or course-correct the map to get to your goal. Here's an example: Let's say you're using my
basic Twitter strategy to get more exposure for your Twitch stream.
 You start getting more followers but you're not getting more viewers on your Twitch stream. This is where most people give up and conclude "Twitter doesn't work!". But does that really mean the plan failed? No.
It simply means the first approach you took needs adjusted.
You do this by looking at the content you're posting and seeing if it's getting engagement. It is? Great! That means people are interested in your content. Now why aren't they coming to your stream? Maybe you need to post more frequently while you're live. Or make your "Going Live" posts more compelling to grab their interests. Always look for the leaky buckets in your process and plug those holes. Let's look at another example. You're implementing the Twitter strategy to perfection, getting loads of new engagement, and new viewers every stream.
But no one is sticking.
Very few new Twitch followers, the same chatters each day, nothing new. This might mean that you need to engage the viewers better. Coming up with sayings or reminders to get them chatting or following. Maybe asking questions more frequently or saying controversial or funny things to spark interest in the chat.
It could also mean your content SUCKS.
And that isn't the end of the world or your streaming career.
It just means you need to adjust.
The beauty of this approach is that you're now able to spot what you need to focus on and improve. You're not just guessing and hoping. By looking at the data and asking "Why isn't this getting me closer to me goal?" you can start to form ideas of what needs your attention and should be improved.
Conclusion
Using this process over and over again you have a strategy that is stacking the deck in your favor. It's eliminating the guess work and illuminating the areas you need to improve. Take action > Observe > Adjust This is a methodical and common-sense approach to growth. Instead of hoping and praying that your stream magically grows, you can start each day with direction and each stream with a small list of improvements to be mindful of in order to grow and hit your goals.
Action Step
Create a SMART goal and write it down.
Work it backwards from your goal to get a daily or weekly goal.
Find a few strategies that will get you to your goal.
Write them down.
E-mail me your SMART goal and strategy. (Details at bottom of page)
If you send over your goals, I'll send you a DETAILED Twitch Growth Plan that you can use to help fine-tune your plan. (
And I might even help you stay on track to crushing your goals this year
)