The Twitch affiliate program offers content creators the chance to get paid for streaming games they love. It provides access to a number of revenue generation tools including bits, subscriptions and game sales.
But what about the real numbers? Just how much can you actually earn from Twitch?
In this post you'll discover:
The different ways to earn revenue as an affiliate.
The Twitch affiliate payout terms.
Real life examples of affiliate earnings.
Let's get started.
Cheering with Bits
Bits are Twitch's foray into a virtual currency that allows viewers to reward the content creators they love. The affiliate contract offers you the chance to accept bits on your channel.
Viewers can purchase Twitch bits and then give them to streamers in the form of cheers. Each cheer can have a message which appears in chat, as well as an animated emote. Viewers who send cheers can also earn cheer chat badges, which show their support.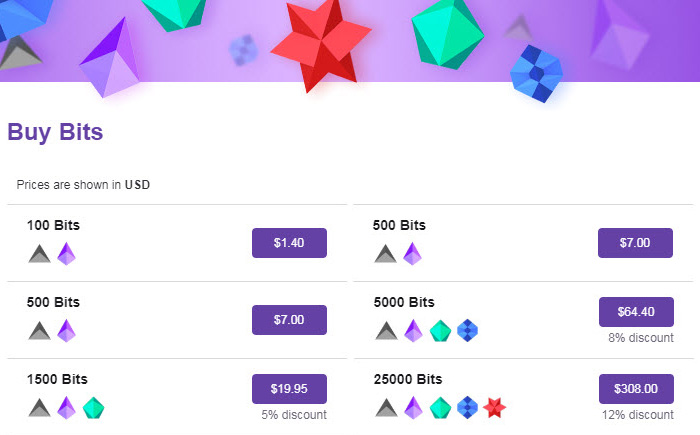 While there are no custom Cheermotes or Bits Badges available to you at the affiliate tier, you will still make money from the cheering process. For every 100 bits sent your way the payout is $1 (or $0.01 per bit). It may not sound like a lot but many viewers have bits on their account, and they are frequently used. The small amounts add up over time, creating a nice boost to your earnings.
Subscription Tiers
Acceptance into the affiliate program also allows viewers to subscribe to your channel. There are three paid tiers, set at $4.99, $9.99 and $24.99, that provide additional features to the viewer. These features include ad-free streams, immunity to slow mode, access to sub only chat and a range of custom channel emotes, and a custom chat badge.
In addition to the paid subscription options, there is an additional option that is included as part of Amazon's Twitch partnership. This is the Twitch Prime subscription, which allows a viewer to subscribe to one channel per month at the $4.99 level, with no cost to them.
For affiliates, the primary benefit of subscriptions is the revenue share of 50%. This makes your pay outs approximately:
Tier 1 and Twitch Prime Subs: $2.50 payout
Tier 2 sub: $5.00 payout
Tier 3 sub: $12.50 payout
These payments will occur every month, assuming the subscription remains active.
Donations
All Twitch streamers can accept donations on their streams, regardless of affiliate status, but they are worth mentioning as they often make up a significant proportion of streaming income.
Twitch does not take a cut of your donations. The only fees you pay are any PayPal transaction fees, app service fees, or associated currency conversion fees.
Donations are usually set up by linking a PayPal account to your Twitch channel and then placing a button in your Twitch profile description. Some streamers choose to offer extra incentives for donations, to entice their viewers to donate or support their channel.
Game Sales and In-Game Items
Affiliates can also earn money from the sale of games or in-game items. Any game played on an affiliates stream which is available to purchase via Twitch, will have a purchase link shown on the channel page, below the video window. If a viewer uses this link to buy a title or in-game item you will earn 5% as a commission.
Other Revenue Streams
As an affiliate you are also free to make money by building your own extra revenue streams. These can include sponsored streams and affiliate links for stores placed on your Twitch channel page. Any sponsorship deals are arranged directly between you as a streamer and any partners you find.
One creator suggests that the payment for a sponsored stream or video can be anywhere from 1c per hour per viewer to $1 per hour per viewer. Payments will vary depending on the company and how closely their target audience matches your channel demographics.
Pro tip: Remember that any content which is sponsored or endorsed in any way has to be declared as such. All paid streams must be declared explicitly and other partnership programs, such as gaming partnerships who offer codes to content creators, will have their own rules for declaration.
On the affiliate terms document there is also mention of affiliates having access to ad revenue, but no word from Twitch yet as to when this will be implemented.
Payment Threshold
Twitch has a payment threshold in place which means that if your earnings fall below $100 a month you will not get paid that month.
Don't worry! It will roll over into the next period and when you cross the $100 threshold a payout will be designated for the next pay period.
Payment Terms and Fees
Twitch's affiliate terms state that they pay out revenue within 45 days of the end of each calendar month. This means that revenue earned in January will be paid out mid March.
While you cannot choose the payment terms you can choose the method. Paypal, e-check, ACH transfers and wire transfers are all supported, so you can pick whichever works best for your circumstances. It also helps you avoid fees associated with some payment methods, this is especially important as Twitch passes these onto you as an affiliate.
If your affiliate account has no revenue coming in for a 12 month period, then Twitch reserve the right to close your account. When doing this they may also take a maintenance fee, of up to $25, before paying out the rest of any money owed.
The affiliate agreement details all these charges and terms, so I'd advise reading it in full before you sign up to the program.
Typical Revenue
As expected revenue from Twitch is directly related to the size of your channel. For an affiliate, subscriptions are your most common, ongoing revenue stream. The amount of regular viewers directly relates to the amount of subs you could potentially have. More viewers also allows you to command higher rates in sponsorship deals and brings an increased chance for cheers and donations.
While some streamers are cagey about how much they earn, a few have gone on record to discuss it. One such streamer is The Rum Ham, who made a video about his channel and earnings as a small streamer.
While he is a Twitch partner, rather than an affiliate, the video really helps show the real figures you could earn. The only major difference in earnings between a partner and an affiliate is currently ad revenue, so you can just ignore that part for the moment.
For context The Rum Ham streams mobile games for 3 hours a day, each weekday. His viewing figures average around 200 viewers concurrently, so are very achievable for a small channel.
During the first 5 weeks of his partnership he has made $175 and has gained 61 subscribers. The revenue breaks down as follows:
Ad Revenue: $19.28 (would not be available to affiliates)
Sub Revenue: $64.29
Twitch Prime Revenue: $79.80
Bits Revenue: $11.55
While this is a small amount of money, it is not all he has earned. When he opens his donation tab it hides a nice top up. Over the course of the last year, the length of his streaming career, he has taken in around $1,400 in donations.
Averaging out the donations and adding to his declared income above means earnings of around $300 per month for the channel, which is still growing.
He says himself that he hasn't pushed donations, cheers or subscribers and is still very new to the program. Offering incentives and goals can really help boost the number of subs and of cheers. The Rum Ham also streams to quite a niche market. There are several adjustments which he admits he could make in order to increase his audience and in turn his revenue.
While it can take a lot of work to earn well on Twitch, it's certainly achievable to supplement your earnings with a small steady income, even with a smaller channel. Taking steps to improve your channel and increase viewer engagement will also help boost these figures and turn them from a sideline into a pay packet.
Another creator did a survey and asked fellow affiliate how much monthly revenue they were bringing in. About half of the 3,000 responders were making less than $100/mo, however 33% said they were making $750+/mo.
Twitch Affiliates! I'm curious as to what your approximate monthly revenues are directly from the affiliate program.

Subs/bits/ad revenue only!

If you're comfortable sharing general ranges, please answer this poll and/or DM me.

— Omeed (@Omeed) February 1, 2018
As you can see the amount of income varies a bit for each affiliate. That's because it is fully dependent on the size of your audience, your skills as a broadcaster, and the quality of content you create.